Call me by your name – a summer night's review
Call me by your name, a cinematic success that received glowing reviews from critics under every aspect but that may have had a different reaction from the wider audience.
Synopsis
From the novel of the same title by André Aciman, Call me by your name transports us to the summer of 1983. In the north of Italy, Elio Perlman (played by Timothée Chalamet), an American-Italian 17-year-old, spends the days with his family in their seventeenth-century villa, transcribing and playing classical music, reading books, and flirting with his friend Marzia. Elio has a very close relationship with his father, a university professor who specialises in Greek and Roman studies, and his mother Annella, a translator, who provide him with a high education on a background ripe with natural pleasures. Despite his sophisticated personality and his prodigious intellect that make him seem already adult, there's still a lot that Elio doesn't know, especially when it comes to matters of the heart. One day, Oliver (played by Armie Hammer), a charming American student working on his doctorate, joins the family for a summer internship as an assistant to Elio's father. In this torridly brilliant atmosphere, Elio and Oliver will discover the heady beauty of desire over the course of a summer that will change their lives forever.
Review
Shaky first impressions
I wouldn't say that Call me by your name is one of my all-time favourite movies. Despite the fact that I've already seen it three times and that it definitely left a strong impression on me after each rewatch, for some reason, I couldn't honestly say that he belongs to the list of my favourite films.
The first time I watched it, I went into the experience with a certain wariness that definitely ended up contributing to my first impression that this movie, all in all, was not to my liking at all.
I'm not sure what pushed me to give it another chance. Ever since coming out (pun unintended), Call me by your name had received brilliantly favourable reviews by anyone who expressed an opinion about it, and one of the people whom I most trust when it comes to cinema and TV recommendations had enthusiastically shared said opinions.
I started to have the feeling, in other words, that I might be the mistake in this specific equation. That's why I found myself watching it a second time.
An acquired taste
Like you might have imagined from the fact that I went back to see it a third time, the second viewing ended up changing my mind.
It could have been that I paid closer attention or that, having already seen the movie once, I could better appreciate the kind of details one tends to miss when encountering something for the first time. In any case, my opinion on Call me by your name did a complete 180°.
A simple story
It wouldn't be totally wrong to reduce Call me by your name to a simple love story. It is. However many particulars and shades one considers when talking about it, it remains at its core a love story, one without a particularly convoluted plot either.
Elio and Oliver meet in semi-coincidental circumstances during a rather boring summer over the course of which not much happens aside from the development of their relationship. The story isn't especially complicated or eventful, and the rhythm with which it is told is definitely slow and at times even overzealous, but it is a rhythm that works perfectly for the characters' story and for how the feelings between the two develop and flesh out over the course of the movie.
The entire experience is a slow climax through a back and forth of subtle emotions and the fear of expressing them, of preemptive yearning when one remembers that Oliver will eventually have to go home and separate from Elio, and all the insecurities that result from this certainty. Not to mention the flood in which Elio's feelings end up shaking his still adolescent life, forcing him to live them in the characteristic whirlwind of that specific age.
In addition, the time (the 1980s) in which the story is set doesn't give the protagonists the chance to openly voice what they're feeling, in part for a very common fear of rejection and in part because, if they were to misstep, a violent reaction would be a very tangible and real possibility.
Common complaints
Among the negative opinions I've heard, one of the most common was that the attraction between Elio and Oliver wasn't obvious enough, and it is an opinion that I have heard especially from heterosexual people. "These two get together completely out of the blue," a friend fervently told me right after watching Call me by your name, "You can't tell that they like each other at all."
What I'm about to say might make a lot of people defensive, but those who know me know very well that that has seldom stopped my tongue and, in this case, my fingers.
Call me by your name speaks a language that heterosexual people have never had to exercise.
What I mean with that is not that no straight people can ever understand the strength of the feelings that pass between Elio and Oliver, not at all. Every person and every couple, regardless of sexuality, can live the intensity of love, but there is a set of meanings and expressions that those who have never had to deal with the possibility of receiving violence in exchange for a love confession have never had to deal with. Call me by your name has an ability under this aspect that doesn't make it all that hard to understand why some people might not have found the feelings between the protagonists explicit enough.
A language of its own
There are constant practice, desperation, and fear born of trying to understand if a person of the same sex shares your feelings. It is a kind of restraint that is more evident in Oliver rather than Elio, seeing as Oliver grew up knowing that if he ever were to express homosexual tendencies "my father would have carted me off to a correctional facility" he tells us, and his attempts to communicate his attraction aren't immediately understood even by Elio.
If on one hand some of my straight friends and acquaintances expressed this lack of understanding, on the other my friends and acquaintances who are part of the LGBTQ+ community had an entirely opposite opinion, saying that to them the attraction between the two was immediately obvious and going so far as smiling of the fact that Elio didn't initially understand that Oliver's friendly massage during the volleyball match had a very different meaning.
Other criticisms
Aside from what can be seen as a stylistic and narrative choice, there's another criticism that the movie has received from both the audience and the press, and that I personally think it's worth to mention.
Elio is a 17-year-old boy, while Oliver is 24.
It would be a mistake, I believe, to ignore that the age difference between the two might be an issue and that a lot of people see it as a concern for criticism. It's not an opinion that I share in its entirety, but I'm also not comfortable defending the movie under this regard.
It's probably true: if the couple had been comprised of a man and a woman, this specific criticism would not have been brought up (mistakenly because it would have been just as serious in that case too, but that's a discussion for another time), and it's also true that there's a historical element to the LGBTQ+ community that not knowing makes harder to understand why the choice of this age difference isn't as bad or unusual as one would first assume.
Some context
I'd like to breach the subject, but first I need to clarify that I'm not at all an expert and that I don't have the presumption of speaking as one, so what I'm about to say is based on my own experience and opinions.
It's not that rare to hear from queer people that their first romantic experiences were with older partners. As a member of the LGBTQ+ community, I am of the opinion that there might be two reasons for that. The first is that quite often, especially in previous decades, there was a tendency to come out later in life and that could mean that all the developmental romantic and emotional experiences linked to love that one would usually live through during their teenage years would also happen later in a sort of delayed adolescence.
The second reason, linked to and influenced by the first, is that for many young and adolescent queer people, it's a lot easier to be welcomed and accepted by people who are slightly older whereas other queer teenagers tend to hesitate to identify as such. It becomes a situation where 15, 16, 17-year-old LGBTQ+ youth are at the same time more mature than their age because of living with their sexuality and gender identity in a society that doesn't always welcome them, and also feel completely alone because of it and only find warmth and acceptance in environments where other LGBTQ+ teenagers are simply absent.
In any case, when considering the specific context and story that Call me by your name is trying to tell, I personally understand the choice of representing that age difference but I don't feel like I can fully justify it.
The age difference and any opinion on it can thereby become something to think about. One should definitely look at the movie critically, something that should happen when talking about any type of media content, but reducing the film to that one single factor would be an injustice.
An orchestra of emotions and storytelling
In spite of a deceivingly simple plot, Call me by your name is an ensemble of more or less understated elements that contribute to an emotional and poignant story.
Where words and feelings are unmasked, like in Elio's father's final speech, it is clear what the movie is trying to say: there are emotions that can change us, emotions that very often are born of difficult and complicated circumstances and that for that reason can hurt us, but everyone comes out a richer person thanks to them.
At the same time, the movie guides us through moments of quiet and sophistication over an idyllic background and through a tenderness made playful by Elio's youthfulness that brings older viewers back to a stormy emotional memory and perfectly encapsulates every hope for a gripping romanticism in adolescence.
If the second time I watched the movie was when I truly understood some of its deeper nuances, I want to end this article by saying that my favourite viewing was, however, the third one. I was lucky enough to be able to see Call me by your name at an outdoor cinema – properly social distanced – in a free screening organised by my small town.
Despite a smaller screen than I would have liked, and the fact that the movie was dubbed in Italian (something that I usually love but that in this particular instance I would have done without because it ended up erasing some of the language jumps of the dialogue that goes through parts of Italian, French, English, and German), I couldn't have imagined a better way to witness the spectacle of quiet and yet stormy feelings that Call me by your name represents than under the clean and starry sky of a summer nearing the end of its lusciousness.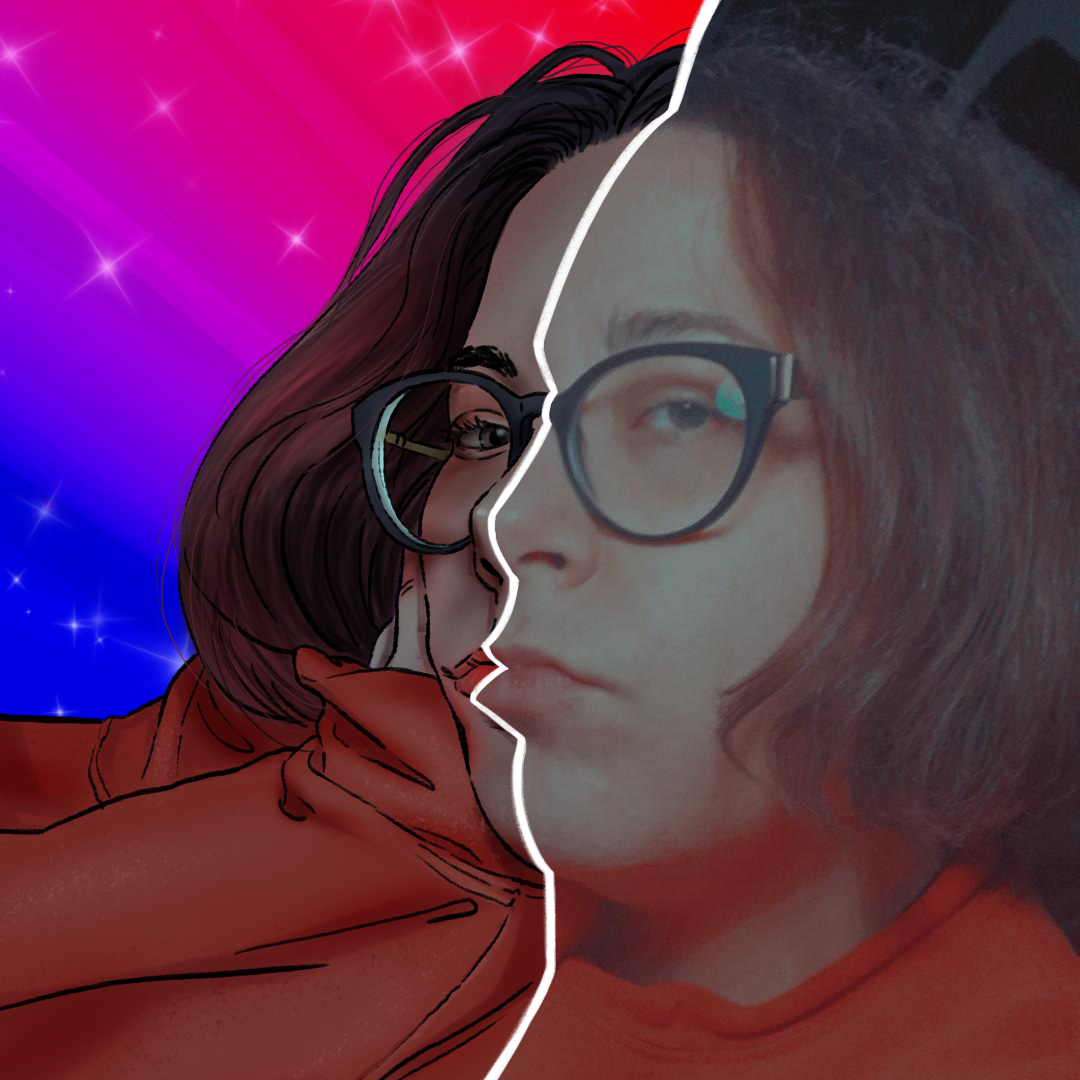 1993, bisexual. Split between drawing and writing. Too many ideas not to waste a few. Amateur translator.